Copper Roofers
Copper roofing is a speciality that we deal with here at North West metal roofing and is a very popular choice, even though it is slightly more expensive it is often a preferred choice due to its many qualities and reputation. As copper roofing has been used on roofs for centuries people trust it to be a good roofing system.
Copper roofing is known to be more expensive but if you are looking for a simple, maintenance free roof which presents an array of high qualities then you are paying for a high quality product. Copper roofs if installed professionally are expected to last well over 100 years, so in your lifetime you should never have to maintain it, fix it or replace it.
All employees at North West metal roofing are fully trained and qualified roofers who all have the relevant certificates and knowledge to provide a professionally installed roofing system.
Advantages of copper roofing systems
Benefits of using copper roofing systems include;
Practically free from maintaining
Repel the growth of moulds and insect invasions.
Recyclable material
Long lasting
Fire resistant
Flexible and lightweight
If you are interested in having a copper roofing system installed then please contact us today, we can provide you with all necessary information and even offer you a no obligation quote.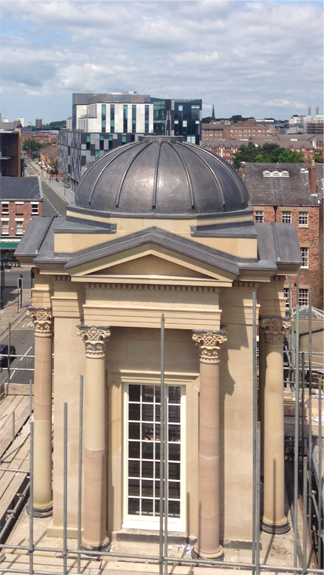 Latest News
North West Metal Roofing will be supplying & installing over 600m2 of VM Zinc Quartz angle seam cladding at Everton Footbal Club's Finch Farm traininig facility as part of their continued development of the site.
Latest News
Works are approaching completion at Cityheart Chester, we have installed over 300m2 of Arubis copper cladding with matching parapet cappings as well as PPC aluminium feature works to fascias & windows.
Latest News
Utilising our extertensive experience in complex dome structures we will be installing KME Tecu Gold copper roof coverings to the main dome and minarets at The Lower Atley Street mosque in Accrington.